---
Welcome to SHM Converge 2023!
A message from Eric E. Howell, MD, MHM, CEO, Society of Hospital Medicine.
---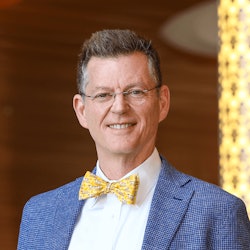 Welcome to SHM Converge, the largest conference dedicated solely to hospital medicine. We are excited to have you with us in Austin as we reunite with our hospital medicine community. Your presence at SHM Converge demonstrates your commitment to not only the field of hospital medicine, but also to the patients and communities you care for.
Collaboration through a supportive community of peers can provide guidance and belonging. That's why events like SHM Converge are so rewarding and important. In addition to attending the many educational sessions throughout the day, we get to connect with more than 3,500 hospitalists and learn from our peers.
I look forward to welcoming you in person during my "State of SHM" address during this morning's Opening Plenary, which begins at 8:30 a.m. in Exhibit Hall 5. I will share more information about SHM's updated Mission, Vision, and Goals, which will help guide SHM, our colleagues, and our field into the future.
Later this afternoon, we are honored to host first-generation American immigrant turned American soldier, combat veteran, and now professional touring stand-up comedian, Thom Tran, as our keynote speaker. Don't miss "A Funny Thing Happened on the Frontlines: How Comedy Saved My Life During War. Literally" at 1:45 p.m. in Exhibit Hall 5. He will share stories from his time in combat, drawing from his experiences to share messages on happiness, healing, and resilience.
As you settle in, make sure to download the new SHM Converge app, a resource that puts the conference at your fingertips. You can create an individualized conference experience, network with your fellow attendees, find answers to FAQs, claim CME from the main conference, and more.
This year, at your request, SHM Converge has more networking opportunities than before. This includes dedicated networking time each day that won't conflict with your educational sessions. Monday and Tuesday, be sure to attend one of 31 Special Interest Forums, where you can connect with peers and thought leaders. Chapter meetups will be happening throughout the meeting, so take the time to chat with your local hospital medicine community to keep the conversations from SHM Converge alive after you return home. More information and schedules can be found in the SHM Converge app.
We are excited to introduce a new element to the conference — Converge Central. Located in Exhibit Hall 1, this is the main hub for all things SHM Converge, including the Chapter Corner, Social Circle, Fellows Lounge, ePoster Gallery, and Wellness Lounge. Tonight, in Converge Central at 5:30, the sounds of Austin will be alive as we welcome The Watters, a local husband and wife duo, who will perform live as we prepare for the Scientific Abstract Competition reception, which begins at 6 p.m.
I'd like to extend my gratitude to our partners joining us in the Engagement Arena, which is open today from 8:45 a.m. to 4:45 p.m. and Tuesday from 9 a.m. to 4 p.m. Please take the time to visit with them during your breaks. Their support is essential to bringing SHM Converge to life each year. While you're in the Engagement Arena, stop by the SHM Pavilion to meet with SHM staff, update your member profile, and learn how to make the most of your SHM membership.
We also wouldn't be here without the help of our amazing Annual Conference Committee and SHM staff, who have put together this year's program. Please join me in thanking them for their outstanding efforts.
I look forward to seeing you throughout the next few days. Please feel free to stop me if you see me and say hello. I value the chance to hear from you and learn how SHM can help you advance your career and elevate your patient care.
Once again, I thank you for joining us and hope you enjoy your time in Austin for SHM Converge!  
Visit SHM Meeting News Central for more coverage.