---
Time to wrap up SHM Converge!
There's more to see before we're done here in Austin.
---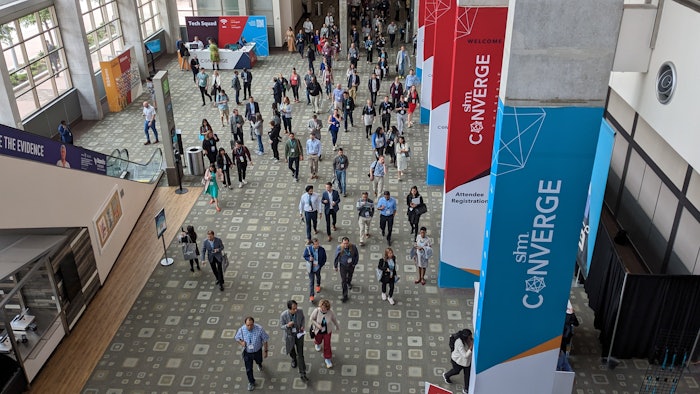 Get ready for the final day of SHM Converge 2023! We hope you have made the most of your time in Austin.
As you enjoy breakfast at 7:30 a.m. in the First Floor Foyers, watch this year's "What Have We Learned Wrap-Up" at 8:20 a.m., presented by Carrie Herzke, MD, FAAP, MBA, SFHM, course director of SHM Converge 2024. It will be streamed to all breakout rooms.
Following breakfast, explore sessions in our many educational tracks, including DEI, High-Value Care, Academic/Research, and more. Workshops continue through 1:30 p.m., and ePoster presentations will be held from 8:40 to 10 a.m. in Converge Central (Exhibit Hall 1). Check the SHM Converge app for session details.
Feel like you missed a few sessions? Purchase SHM Converge On Demand, available at a discounted rate on site. Visit the Registration Desk or Tech Squad to add it to your registration before you leave.
While you are at the Registration Desk, register for SHM Converge 2024, April 12-15, 2024, in San Diego, California. Or you can Register for SHM Converge 2024 here.
We're also accepting speaker and topic proposals for SHM Converge 2024. Help us develop next year's annual conference to provide hospitalists with the essential resources to complement their work and grow their expertise. Our call for content closes Monday, May 1, 2023, so submit your proposal today at hospitalmedicine.org/speak24.
We know you have enjoyed spending time with your hospital medicine community and have been immersed in many conversations, whether in educational sessions, in Converge Central, or at our various networking events. Make sure the conversations don't stop in Austin. You can always meet up with your local chapter and chat with hospitalists on our online community, the Hospital Medicine Exchange (HMX), at hospitalmedicine.org/hmx. If you enjoyed a Special Interest Forum at SHM Converge, join a related Special Interest Group (SIG) at hospitalmedicine.org/sigs.
Enjoy the rest of your time at SHM Converge! Thank you for making this annual gathering such a memorable experience. We are grateful for the collective knowledge, passion, and strength of our hospital medicine community. 
Visit SHM Meeting News Central for more coverage.