---
Outstanding Service in Hospital Medicine
The winner of this award worked tirelessly in leading efforts to fight the COVID-19 pandemic in Alabama.
---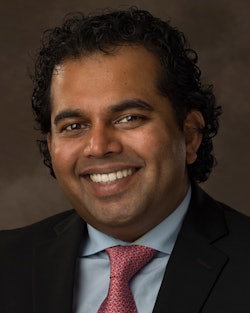 Amith Skandhan, MD, FACP, SFHM, is an assistant professor and IM Hospitalist at Southeast Health in Dothan, Alabama. He holds leadership roles in revenue optimization, population health, and graduate medical education.
As a co-founder of SHM's Wiregrass Chapter, he aimed to improve the quality of medicine practiced in the rural area it served. He frequently visited regional hospitals and clinics to understand their specific concerns and hardships. Using the resources provided by SHM, he led projects that led to improvements in patient flow and throughput, established revenue optimization streams, and boosted population health in these rural institutions. He developed a network of grassroots health care advocates who have met with Alabama state legislature members to present case studies that reflected pressing local patient care issues.
When the COVID-19 pandemic hit Alabama, Dr. Skandhan realized the disease would disproportionately affect smaller rural hospitals and hospitalists due to institutional isolation and lack of resources. He formed a weekly statewide meeting for hospital medicine program directors, sharing care pathways, discussing supply chain issues, and addressing leadership challenges. The forum collaborated with the Alabama Public Health Department and Alabama State Health Policy Committee to address the hurdles of frontline providers. Dr. Skandhan also sought to address vaccine hesitancy in Alabama, given statewide low vaccination rates. He organized a discussion forum where physicians, community religious leaders, and government officials discussed COVID-related topics with an evidence-driven but non-judgmental approach. To improve academic outreach during the pandemic, his SHM chapter also created an e-poster competition on Twitter with over 500,000 digital interactions. Additionally, he led outcome-driven, multimonth collaborative virtual projects with institutions across the country to improve trainee wellbeing and facilitate faculty development.