---
And the Chapter Excellence Award goes to …
SHM honors chapters around the country.
---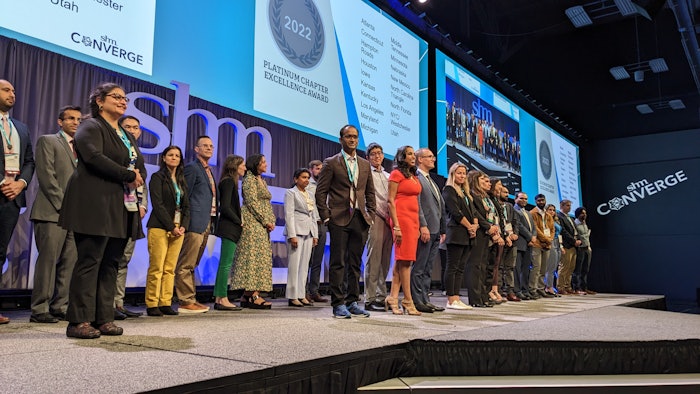 It may not be a glamorous Hollywood awards ceremony, but SHM's Chapter Excellence Awards are an important way to recognize the achievements of individual chapters, their leaders, and members in the past year.
This year's Chapter of the Year Award — announced on Tuesday afternoon — was given to the Kentucky Chapter. Outgoing SHM President Rachel Thompson, MD, MPH, SFHM, said the chapter excelled by providing outstanding programming, executing highly successful membership campaigns, and identifying future leaders.
The chapter also conducted the most events held by one chapter in a calendar year, including an "Updates in Hospital Medicine" series, a virtual conference on "Multidisciplinary Approach to Management of Patients With Infective Endocarditis," and an RIV Poster Competition with 100 registrants and 41 abstracts submitted.
"The Kentucky Chapter has also consistently seen growth in its membership despite challenges posed by the COVID-19 pandemic," Dr. Thompson said. "It has also identified and developed five new leaders, showcasing the chapter's commitment to identifying and engaging future leaders."
In addition to Chapter of the Year, 18 chapters were awarded Platinum status for demonstrating growth, sustenance, and innovation within their chapter activities. They are:
Atlanta
Connecticut
Hampton Roads
Houston
Iowa
Kansas
Kentucky
Los Angeles
Maryland
Michigan
Middle Tennessee
Minnesota
New Mexico
North Carolina Triangle
North Florida
Nebraska
NYC/Westchester
Utah
This year's Shining Star Award — given to a chapter or district to recognize an outstanding event that took place in 2022 — was awarded to the District 4 Chapters of SHM for the District 4 Conference that took place in November.
In presenting the award, Dr. Thompson called the conference an "outstanding event" that required collaboration among the chapters in North and South Carolina, Tennessee, and Virginia and "excellent organization by leaders at every phase of planning to bring the program to life.
"It was the first time a collaboration of this magnitude was ever accomplished by a District within the Society of Hospital Medicine," Dr. Thompson said.
The recipient of this year's Resiliency Award — given to a chapter that has gone above and beyond to showcase its ability to withstand and rise above hardships and position the chapter for long-term sustainability and success — is the Utah Chapter.
Dr. Thompson said the Utah Chapter definitely earned its recognition.
"The Utah Chapter came together to overcome undue hardships caused by the COVID-19 pandemic and diminishing engagement," she said. "The chapter was adaptable when faced with speaker cancellations and technical difficulties during 2022 events and embodies the spirit of resiliency."
The Utah Chapter's efforts helped it move from provisional status back to full chapter status in 2022.
The Minnesota Chapter was recognized with the Outstanding Membership Recruitment and Retention Award.  Dr. Thompson said the Minnesota Chapter went above and beyond to recruit and retain members.
"Through active collaboration with hospitalist leaders from different organizations, frequent communication with members, and creative engagement, the Minnesota Chapter's membership recruitment and retention efforts have contributed to the chapter moving from the third largest SHM chapter to the largest chapter in terms of membership in just one year," Dr. Thompson said.  
The Professional Wellbeing Champion award, which recognizes a chapter that has developed programming initiatives to support members' professional wellbeing and reduce burnout, was given to the North Florida Chapter. Dr. Thompson said the chapter stepped up its efforts to focus on wellbeing and create a healthy work-life balance.
"The chapter conducted several initiatives, including hosting an interactive meeting with the Director of Wellness at Mayo Clinic Florida who discussed work-life balance options and ways to overcome the obstacles members were facing," Dr. Thompson said. 
The Most Engaged Chapter Leader of the Year award went to Shikha Alqalaf, FHM, president of the Charlotte, North Carolina, Metro Chapter. Dr. Thompson said Ms. Alqalaf has been at the forefront of leading the Charlotte Metro Chapter to success over the last several years.
"Through her leadership, she organized a district-wide meeting called 'Pandemic of Trust,' addressing patient and family concerns," Dr. Thompson said. "As well as a local, in-person social event to bring her chapter community back together."
And new this year, the Unsung Hero Award was given to Gwendolyn Rowena Williams, MD, FHM, president of the Hampton Roads Chapter.
"Dr. Williams is the embodiment of a young trailblazer in medicine," Dr. Thompson said. "And uses her perspective as a person of color and a first-generation American as strengths to bring a diversity of lived experiences to her initiatives and interactions with her peers."
Visit SHM Meeting News Central for more coverage.