---
Hospital Medicine: Then and Now
International experts from around the globe discuss the impact of the COVID-19 pandemic on a cute care.
---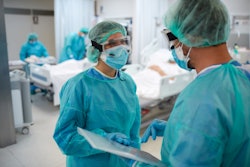 Don't miss the opportunity to hear from a panel of talented international hospitalists.
These experts from across the globe will discuss how the pandemic has impacted acute care from the height of its spread through the present, as we begin to emerge from the pandemic and move towards endemicity.
This pre-recorded session presented by Dr. Elsa Rueda, Dr. Anand Kartha and Dr. Ahmed Jameel will be streamed during SHM Converge 2023 on Tuesday, March 28 from 6:30 - 7:15 pm. Refer to the conference app for location and further details. 
Visit SHM Meeting News Central for more coverage.